Material Handling Solutions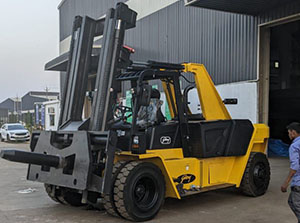 We set up shop in 1963, and as we scaled, so did our ability to deliver customised solutions crafted with careful consideration. Our many years of experience lead us to understand Indian conditions better. So, while we provide you with the best of products, we also uniquely equip them to adapt to your local conditions. The result is unparalleled productivity even in the most demanding situations.
With our wide range, varied abilities and vast presence across categories, we drive performance and productivity across sectors. This indicates you get the most out of the best
As the largest Indian manufacturer in the material handling sphere, Godrej Material Handling has a mission to fulfil. With a presence in every corner of the country, we're committed to being reachable. Our widespread network allows us to provide you with the best of service, in under 24 hours.
Our wide range of maintenance contracts varies as per the requirement of our customers. With 800+units on rental, we are a one-stop solution for those who want to run an asset-light business
We provide the finest service and solutions to businesses extending from traditional to modern, and small scale to large scale.
The electronically synchronised powerful Twin Traction Motor enables the forklift to turn on its axis, reduce the turning radius by more than 15%, and ease navigation even along the narrowest bends. The robust motor-gearbox combination enables the forklift to climb up to 21% gradient and travel at a top speed of 14kmph, ensuring best in classperformance.
With an unprecedented lifespan, Li-ion batteries come with benefits of opportunity charging and fast charging. Now no more swapping of extra batteries into the truck during multi-shift operations. The battery promises more power by using green technology that is devoid of lead and acid.
Designed and developed to deliver high charging proficiency, Smart Chargers are a reliable solution to energy cost savings. Its adaptive charging technology helps to maintain an extraordinary battery life while keeping your business in motion. This one-charger-that-fits-all comes power-packed with scheduled charging and data recording
Revolutionary, Powerful and Safe
Wet Disk Brakes offer unparalleled performance for 6000 hours with no maintenance where ordinary brakes demand maintenance after every 1000 hours. Designed to achieve effective braking even during extensive operations and in severe conditions, it pledges less effort in braking, and reduces operator fatigue
Learn more about our products and services by downloading our brochure. Get comprehensive information and insights to make informed decisions about your business needs.